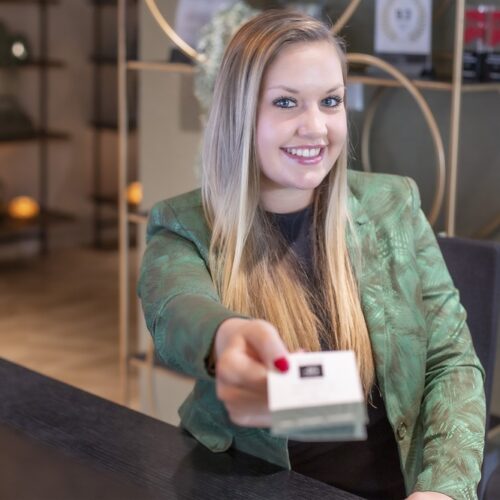 Work at Rosveld
Front office / receptionist
Are you that friendly front office employee with a real sense of personal service and organizational talent? The front office is the vibrant heart of Hotel Rosveld! Here we welcome our guests and ensure that everything runs smoothly within the hotel. Here we talk to people, process check-ins, book reservations and also deal with all other front office  activities that you can expect in a bustling hotel. Are you enthusiastic, studious and stress-resistant? Do you also have strong communication skills and good manners? Then we are looking for you!
Apply directly!
Working in a brand new hotel
Ambitious? Plenty of opportunities within the organization
Various training possibilities
Working in a vibrant international environment where no day is the same
Pleasant working atmosphere and regular outings and activities
Rosveld
Front office / receptionist
In Nederweert, in a striking location directly on the A2 – the leisure hotspot between Eindhoven and Maastricht – people are working very hard. Hotel Rosveld is an ambitious hotel with 81 and eventually 164 luxurious rooms, a trendy lounge-style lobby and a cozy hotel bar. In short, a place where we receive guests with great pleasure!
Do you also like something new and starting at the beginning? Are you a real team player? Then let us know as soon as possible because the application procedures are in full swing.
Apply directly
Are you looking for that vibrant job in an international hotel?
Send your resume & motivation right away
Send us your application!